Support your schools ICT infrastructure with the best support
With the large and swift changes to the way schools educate, interact with their communities and use ICT, the right support service and package can help schools like yours to strengthen and enhance the role of IT both in school and remotely.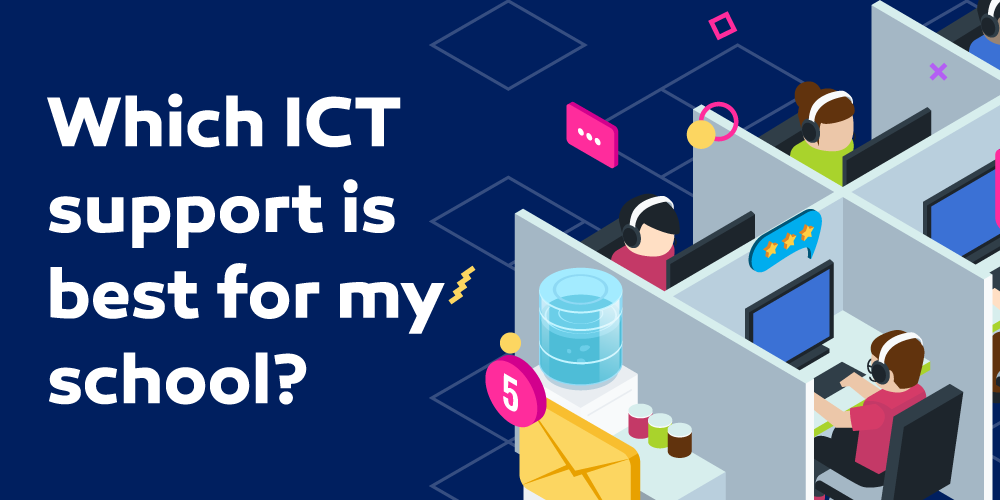 Essential Support Service for Schools
An essential support service is most popular for schools, and is chosen for both convenience, quality and value. The essential service package covers a wide range of support and services and is sufficient for most school's ICT and IT support. The essential service package includes:
ICT Strategy and 3 Year Plan
Server Support
Network Monitoring
Essential Systems Support
24/7 Service Desk
For schools with more specialist and specific needs, a custom ICT support package can be created by choosing support and services including all the Essential Services Modules as well as from the Technical Support and Remote Support services.
Need more expertise? Fancy a dedicated consultant on-site?
The Technical Support services offers numerous benefits to schools, in-house IT teams and school managers. A dedicated ICT for schools consultant is allocated to schools and can provide that extra level of support and expertise to ensure schools' ICT networks and systems are running optimally.
Minimise hassle and speed up resolution times
A quick call, support request and remote access lets the remote support team resolve 90% of ICT issues faced by schools. The remote help-desk support is 24/7 and also gives schools the option of call-outs should the need arise. Our ICT for schools technicians and experts are all local UK based.
Not sure how much IT support your school needs?
Need help deciding which IT Support Package or ICT Services to choose from, our ICT Consultants are happy to help complete a FREE ICT Audit (worth £999!) to help you make an informed decision. Simply call 0121 582 0730 or get in touch.